Beauty Evolution: Kim Kardashian!
Wednesday, November 2, 2011
Say what you want about Kim Kardashian, but you can't deny the fact that the girl has a pretty firm grip on style and beauty. Kim's been all over the news recently for her relationship woes, but unlike the rest of the blogosphere, we're not focusing on this Glamazon's divorce (At least for the moment! lol)! We're taking a look at how she preserves her pretty!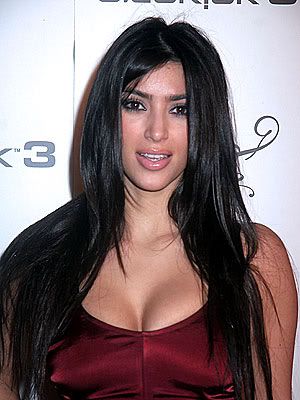 Glamazons, I must admit that as I browsed through beaucoup pictures of Kim, I was shocked to see how she has really done a beauty upgrade. (I'm not throwing shade. I'm no Kim K lover or hater, but I'm not blind either! Her hair and makeup has done a complete 360 since she hit the scene in the early 2000′s!)
The "Keeping Up With the Kardashians" star has definitely stepped up her beauty game since her days as Paris Hilton's understudy…I mean BFF and stylist. Her hair game has improved as well as her makeup (Homegirl's brows used to be like…WHOA!)
From bouncy curls, to sleek ponytails, fire engine red tresses and even Bo Derek-inspired braids (clearly one of the top FAILS of the century!), Kim proves she's not one to shy away from switching up her hair looks.
She's known for her contoured cheeks and sultry smokey eye looks and I can't knock her hustle. I'm a fan of how she kicked her beauty game out of cruise control and put the glam pedal to the metal. I mean, her looks are the core of the Kardashian empire, so I can't be mad at Kim. (Make that money, honey!)
Let's take a look at Kim K's beauty looks over the years:
Get your glam on like Kim with beauty staples such as false lashes, smokey eye shadow, nude lip gloss, a large-barrel curling iron and more! Shop these tools below!
What do you think about Kim's beauty transformation? What are your favorite beauty looks Kim's rocked?
Ciao Bellas,
Glamazon Margo
View Related Posts: