Announcing…Marni for H&M! [Video]
Tuesday, November 29, 2011
Just when you were finally getting over the Versace for H&M mania (more to come in the Spring, btw), the retailer announces its latest collaboration: Marni!
Yes, Marni for H&M will be coming to a store near you on March 8th (hopefully, it'll be warmer for the people sleeping in tents outside a la Versace?).
Marni is a lot less flashy than Versace, so get ready for sophisticated but jubilant, energetic prints in refined silhouettes like cardigans, A-list skirts and suits. Oh and the shoes will totally be to-die-for!




See?! I've wanted a pair of Marni pumps since…like the beginning of time. Every Marni piece is like a work of art!
Here's what Marni Creative Director Consuelo Castiglioni had to say:
"I wanted to create a true Marni wardrobe by revisiting all our favorite pieces in signature fabrics and prints. As always, I love juxtaposing prints and colours, mixing modern tribal with Bauhaus graphic adding sporty utilitarian elements."

Tribal and utilitarian? Sounds like my kind of collection!
Get a sneak peek at the pieces in this video:


Check out more pics of the line here: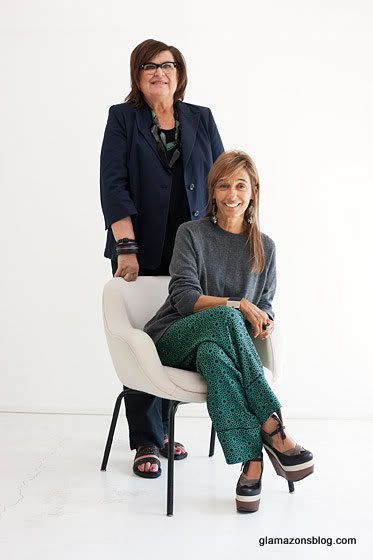 Thanks Marni creative director Consuelo Castiglioni (seated) and H&M creative advisor Margareta Van Den Bosch for bringing this joy to my life!
What do you think, Glamazons? Are you excited to get your hands on this line? I sure am!
Kisses,
Glamazon Jessica
View Related Posts: