GLAM SCOOP: Paula Patton for Covergirl, Doo-Ri Chung for Macy's & More
Wednesday, October 19, 2011
Good Morning Glamazons!
I hope everyones week is going well. It's Wednesday so the weekend is only a couple of days away. Woohoo!
I'm here to update you on the latest fashion and beauty scoop so let's get into it!
Paula Patton is Covergirl's New Brand Ambassador
The stunning Paula Patton has been announced as Covergirl's new celebrity Brand Ambassador for its glamazing Queen Collection! So excited for her because I think she is just stunning.
The brand also announced that in January they will launch three new products for the Queen Collection called Vivid Impact Eyeliner, LashFanatic Mascara and Natural Hue Matte Pressed Powder. I'm sure we will see Patton in ads doing what she does best (werking it!) when these products finally launch.
What do you think of Paula Patton as the new Brand Ambassador of Covergirl? [Hello Beautiful]
Target Collaborates With Grazia Magazine
Grazia Magazine's Australia edition has partnered up with Target to create a capsule collection. How cool! I hope Vogue is next.
For the collection, you can expect "tailored suits and block coloring" says Grazia Australia's editor Kellie Hush. It will include 12 pieces priced between $49-$119. [Olya First]
Miss Piggy for Instyle Magazine
Miss Piggy is surely making her fashion rounds this month. In addition to signing on as a MAC spokesbeauty, Miss Piggy is featured in an 8-page editorial spread in the November issue of Instyle magazine.
The stylish pig is dressed in some of the best designer clothes out right now; Jason Wu, Prabal Gurung, Suno, Opening Ceremony, Brian Atwood, and Giles & Brother all created custom pieces especially for her. Werk!
She certainly is fabulousity at its best. What do you think of her fashion takeover? [Fashionista]
Stella McCartney Launches Eco-friendly Line of Sunglasses
Stella McCartney will debut an eco-friendly line of sunglasses next spring made of natural and renewable materials. The collection will feature bio-injected plastic made from 54 percent castor-oil seeds. The formula combines cellulose with natural plasticizers derived from citric acid. How's that for eco-conscious?
Here's what McCartney told WWD about the collection which will include five pairs, three acetate and two metal models:
The greatest challenge was the amount of time that was spent on research and testing to get the best quality product possible with the highest performance in terms of resistance, while still maintaining the style and finish we always try to achieve.
LOVE! I can't wait until next spring to get my hands on a pair of these glasses! [Ecouterre]
Miranda Kerr for Rag & Bone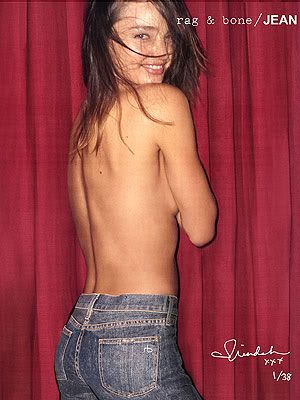 The latetest model to direct her own shoot for the Rag & Bone DIY campaign is Victoria Secret model Miranda Kerr. She gets topless for the ad and shows us her backside clad in a pair of Rag & Bone jeans, of course. Doesn't she look gorg?
That's natural beauty, folks. What do you think of Miranda Kerr's ad for Rag & Bone? [People]
Doo-Ri Chung for Macy's
Macy's is hitting another milestone, this time collaborating with Doo-Ri Chung, one of my fave designers just because she embodies chic.
No deets on prices yet but we DO know the line will hit stores February 15th. Perfect post-Valentine's Day gift from a beau (cough). Check out some sketches below.
Are you excited for this collection, Glamazons? [JimShi's Twitter]
More Images From Versace for H&M!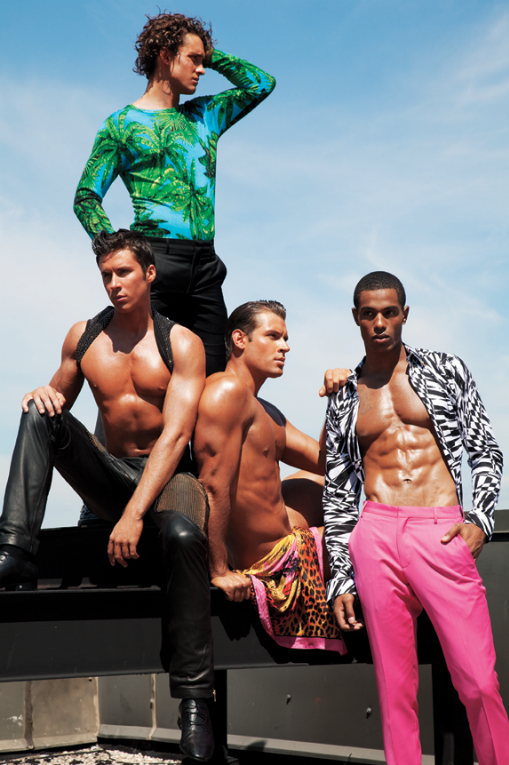 Get ready for greatness once Versace for H&M hits stores November 19th. A few more images from the collection were leaked and I spy bold patterns, bright neon colors and luxe detailing galore. So many of the pieces, like hot pink suits and sequin flared dresses, transport me back to the 70s disco era–one of my favorite times in style (and music!).
Men and women will certainly be look fierce this fall! What do you think about the collection, Glamazons? Click the link for more: [Oh No They Didn't]
Until Tomorrow!
Toodles Luvs,
Glamazon Krystal
View Related Posts:
[fbcomments width="600" count="off" num="15"]