Fun Nail Ideas for Halloween from Sally Hansen, OPI and Kiss!
Monday, October 10, 2011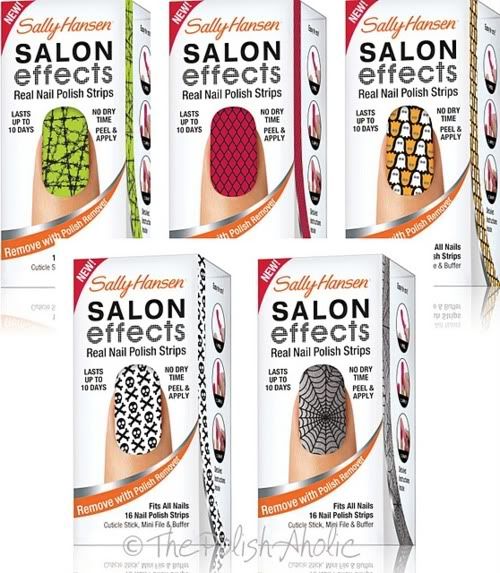 Glamazons, Halloween is a couple of weeks away and even though it's a holiday that revolves around not-so-pretty things like goblins, ghosts and ghouls, there's always room to add an element of beauty.
What better way to add a little glam to your costume than with a quirky nail look? Sally Hansen and OPI have both launched limited-edition Halloween nail collections!
Here are the deets on them: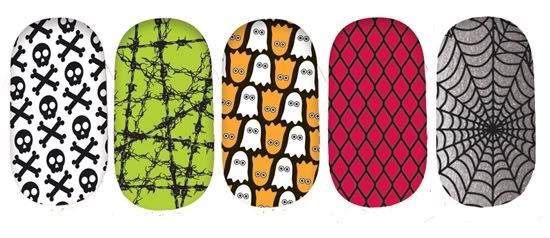 I'm a total fan of Sally Hansen Salon Effects Nail Polish Strips so when Glamazon Jessica told me about their limited-edition Halloween collection, I decided to run to the store and check them out for myself.
The collection has five patterns: a neon green crackled look called Hot Wired, a red and black combo called Wish Nets (it looks like fishnet stockings), an orange and white pattern covered with ghouls called Ghoulie Girl, a black and white skull and bones pattern called Numbskull, and a silver nail with a black spiderweb pattern called Spun For You. (I absolutely dread spiders, but this is my favorite look from the collection.)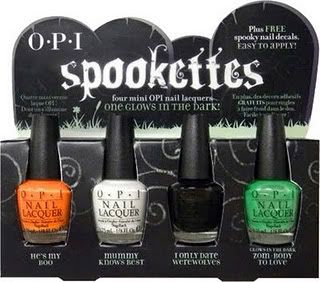 OPI has also gotten into the Halloween spirit with their Spookettes and the Pair em' Scare em' collection.  The Spookettes, a set of four mini bottles of nail polish, consists of He's My Boo – a bright pumpkin orange, Mummy Knows Best – a white shade, I Only Date Werewolves – an ebony hue,  Zom-Body To Love – a glow in the dark green shade. (I absolutely love these colors for any day; not just for Halloween!)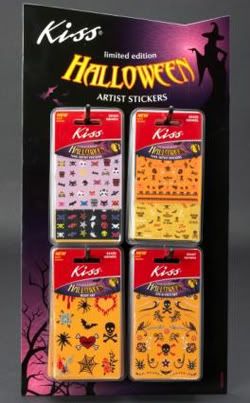 Kiss has also released a few fab Halloween-ready nail accessories. They have fabulous Nail Artist Stickers ecals with decals of spiderwebs and call-outs like "Boo!" so all of you creative Glamazons can create your own designs.
The Sally Hansen Nail Polish Strips and the OPI Spookettes collection can be found in drugstores and beauty supply stores nationwide for about $9.99. the Kiss Halloween Nail Stickers are $1.99 and can be found at  K-Mart or Walgreens.
Glamazons, will be jazzing up your nails using these Halloween-themed tools?
Ciao Bellas,
Glamazon Margo
View Related Posts: