FIRST LOOK!: Gareth Pugh for MAC Collection To Launch in November!
Tuesday, October 25, 2011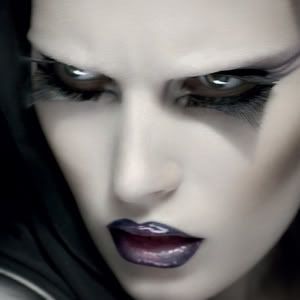 When the worlds of high fashion and top-of-the-line beauty collide, it's best to prepare for some catastrophically fabulous results to occur. That is totally the case with Gareth Pugh for MAC! The beauty brand is teaming up with one of the most amazingly avant-garde designers to ever grace the Earth for a limited-edition line of makeup and accessories. You may remember Glamazon Jessica went to the launch party and had a blast – and now we've got our hands on pics of the products!
Expect to see bold, deep colors that are light and ethereal, nude hues with a hint of sinister and darkness in shades of blue and burgundy. The collection will consist of custom-made, heavyweight geometric packaging, brushes, mascara, a duo-chromatic nail polish that flashes from emerald to amethyst, a compact beauty powder, lipglasses and lashes and more! Woo! (The contrast makes this collection ideal for multiple occassions!)

Here's what Gareth said about the collaboration:
"When creating my makeup collection with M•A•C I wanted it to be unexpected – creating something truly beautiful, very sophisticated, and incredibly chic but of course – with an underlying edge of darkness and attitude."
"With a collection that goes from strong, deep and mysterious to light, fragile, and ethereal, I think we've created a truly versatile collection that hopefully you'll be inspired by and want to wear."
The collection will be available for a limited time: November 23- December 23.
I can't wait to beat my face with these edgy goodies!
Glamazons, are you excited about this collection? What products are you eager to try?
Ciao Bellas,
Glamazon Margo
View Related Posts: