LeToya Luckett Shares Her Summer Hair Secrets!
Wednesday, July 6, 2011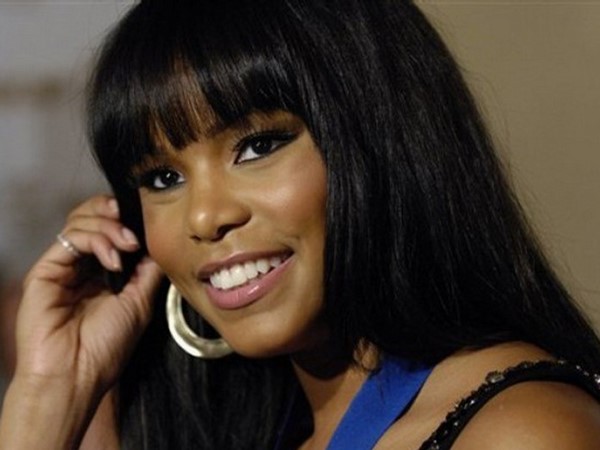 Hey Glamazons! I hope that all of you had an amazing Fourth Of July weekend. Once again, I travelled down to New Orleans for the 2011 ESSENCE Music Festival but this time I really worked instead of hanging out as a guest of FORD like last year. However, it was really cool because I got to meet tons of new celebs and shoot really great videos (more on that later!) I teamed up with beauty brand Carol's Daughter to be their official social media correspondent for the weekend at their pop-up store (located at 309 Chartres St.). While there, one my fave singers LeToya Luckett stopped by (Side note: that's her pictured above holding Mary J. Blige's newest fragrance, My Life Blossom, which she purchased right after my interview because she wanted to support Mary. Love that!) and I just had to get the scoop on her hair (plus anything else that she wanted to share with me, of course hahaha). She's super cute and really nice! Here's what she had to say:
A: What are some of your hair secrets that you'd like to share?
LeToya: I try to shampoo and condition it at least once a week. I do deep conditioners as well and sit underneath the hair dryer and everything. I don't use a lot of heat on my hair. Pincurling is my secret! I wear my hair wavy alot and so I don't have to use all that excess heat everyday trying to curl it, I just pincurl it. So, when I take it out, it just does this (points to her wavy hair). Um, wrapping if I do something straight. Also, I try to keep my scalp moisturized so every once in a while, I use something to massage into my scalp but not like a greasy grease. I'm also into hair masques.
A: Ooo! I love hair masques!
LeToya: Looove hair masques! You know what, I sell Carol's Daughter at my store in Texas!
A: You do! Have you used the Monoi Masque?
LeToya: No!
A: I feel like you need some Monoi because that hair masque will change your life.
LeToya: My clients in my store seriously love Carol's Daughter. They come in more for the hair products than the body products. They say that it moisturizes very well but it's not oily.
A: So, what's your favorite Carol's Daughter product?
LeToya: My favorite is the bath salts and I love the lotions, too. The Shea Souffle is so creamy. Almond Cookie is my fave. I like it because it smells clean and it's not greasy. It has like a warm smell to it. I also like the Ocean Shea Souffle.
A: Most people that live on the West Coast really like that one (the Ocean Shea Souffle).
LeToya: Really? I live on the West Coast!
A: So, what else is new with you? What else do you have going on?
LeToya: The movie From The Rough starring Taraji Henson. (Side note: This film hits a theater near you in October 2011.) I'm also working on my third album and I've also shot some stuff for HBO's Treme.
A: When does your album come out?
LeToya: Hopefully sometime next year. But I'm in the studio working on it right now.
A: What's been inspiring you so far as you create that new album?
LeToya: Just life. (laughing) But it's going to be R&B.
A: Awesome! Can't wait to hear it!
LeToya: I can't wait to hear it, either!
And there you have it, Glamazons! Who else out there is a big LeToya Luckett fan? And, most importantly, what are some of your summer hair beauty secrets that you'd like to share? (LeToya can't be the only gal on the planet that believes in the power of the pincurl!)
xoxo
Glamazon Andrea
View Related Posts:
[fbcomments width="600" count="off" num="15"]