Our 10 Best-Dressed at the 2011 #MetGala: Sarah Jessica Parker, Jennifer Lopez, Diane Kruger, Daphne Guinness and More!
Tuesday, May 3, 2011
Behold, our best-dressed at the 2011 Met Gala (with everyone from Beyonce to Sarah Jessica Parker to Gisele Bundchen). Last night was the night to take bold and beautiful risks on the carpet. Not only because that's the tradition of the Costume Institute Gala at the Metropolitan Museum of Art, but because the 2011 ball honored Alexander McQueen who if anything was fearless and imaginative in his designs. So why would you show up and be boring?! Here are the people that took risks that paid off:
1-Daphne Guinness in Alexander McQueen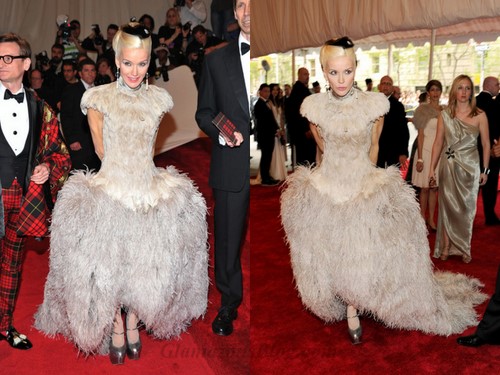 Of all the people that paid tribute rather oddly (Naomi Campbell and Anna Dello Russo) and elegantly (Sarah Jessica Parker) to Alexander McQueen, Daphne Guinness was the most breathtaking. We watched her prep in the window of Barney's, hit the road stylishly and arrive at the Met Gala and were transfixed every step of the way. Even Anna Wintour, when she saw Guinness, exclaimed: "you look fantastic." Need we say more? GLAM.
We've loved the Jason Wu Fall 2011 gown since we saw it on the runway on Karlie Kloss and Kruger does it justice. The nude embroidered top is sexy and glamorous and the slit is as sultry as it gets. We love that she paired this look with blonde waves and red lips. The most stunning we've ever seen her! GLAM.
3-Sarah Jessica Parker in Alexander McQueen
We're not surprised Sarah Jessica Parker nailed it on the red carpet (when doesn't she?) but she looked particularly flawless last night. Her nude turtleneck, long-sleeved, embellished gown was an incredible tribute to McQueen. Her updo made it all the more regal. GLAM.
4-Eva Mendes in Stella McCartney
We wanted someone to serve up 70s luxurious glamour on the red carpet and Eva Mendes didn't let us down. The siren donned a Stella McCartney gown with a one-shoulder silhouette, accordion pleating and a striking blue color. We even love her effortless, unstudied hairstyle. GLAM.
5-Gisele Bundchen in Alexander McQueen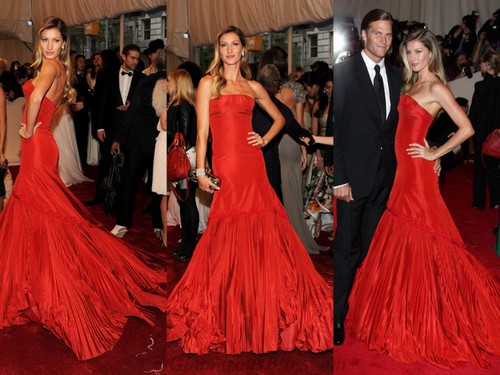 Gisele Bundchen tweeted a picture of her Alexander McQueen red strapless gown before hitting the gala and we were in love at first sight. The simplicity and elegance of this gown coupled with its magnificent skirt and vibrant color looked brilliant on the model. GLAM.
6-Ginnifer Goodwin in Topshop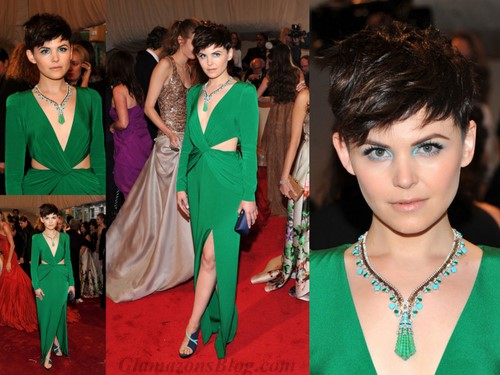 If you want to have a little sexy, adventurous fun on the red carpet, the Met Gala is the place to do that. Ginnifer Goodwin turned heads in a '70s-inspired emerald green cutout gown from Topshop! When paired with blue sandals, eyeshadow and colorful jewelry, we love that the look is sexy, playful and most of all, interesting. We say GLAM.
7-Nicole Richie in Jason Wu
I always rely on Nicole Richie to give me a glamazing look on the red carpet and she never gets it wrong! Last night, she wore a white shoulder-baring Jason Wu gown that channeled old-school glamour with modern sex appeal. Her soft waves, red lips and bold attitude make the look a stunner. GLAM.
8-Joan Smalls in Tom Ford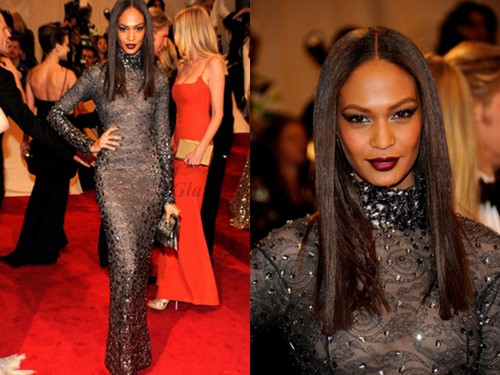 We don't know what to love more: her lovely dark locks, her smoldering cat-eye makeup or that stunning yet simplistic embroidered gown. One of our favorite from Tom Ford's premiere Womens collection, the gown flattered Smalls' tall, elegant frame perfectly. GLAM!
We know, we complained about the garden on her shoulders floral shrug but we appreciate the bold risk she took with the look. And the color! The fuschia hue pops amazingly against Jennifer's bronzed skin. The fun and flirty neckline, the flattering fit, the sexy red lips, her fierce pose—all legendary. Jennifer knocked it out the park in this number, even with the bouquet in the back. GLAM.
Yes it's the same silhouette we always see her in—and an Alexander Mcqueen-inspired piece by Emilio Pucci but the gold embroidered details and her voluptuous frame made her a vision to behold on the red carpet. We especially loved seeing Bey with her hair back to focus attention on her beautiful face—the picture of elegance. Furthermore, we LOVE that she couldn't walk in it. A woman who sacrifices comfort for fashion should be honored. GLAM.
Vote for your best-dressed out of our picks:
(polls)

Who else should have made the list?
Kisses,
Glamazon Jessica
View Related Posts:
[fbcomments width="600" count="off" num="15"]