Would You Wear…White Suits like Mila Kunis and Vanessa Hudgens?
Thursday, April 21, 2011
It's officially the spring/summer season and it's time to get rid of our dreary fall/winter wardrobe! Which means…things are about to get white hot. Now that the temperatures are going up, it's time to get down with this trend.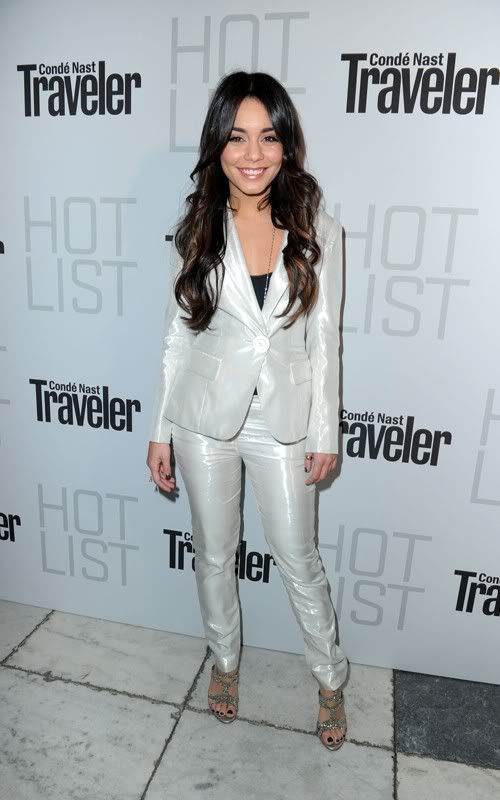 The beautiful Vanessa Hudgens was recently spotted out Conde Nast's Hot List Party.  Not only is she on point with the menswear trend, she rocked a shiny pearl-white suit by Mimi Plange.  She kept her accessories minimal but paired her suit with a hot pair of Casadei sandals.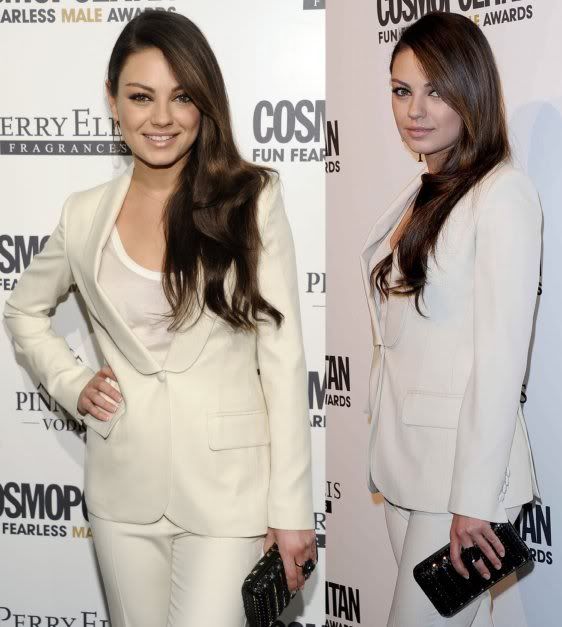 The beautiful Mila Kunis worked the red carpet last month at Cosmopolitan magazine's 'Fun Fearless Males' event.  She wore a white Boca Negra suit and a black Salvatore Ferragamo clutch.  I loved her voluminous side swept hair–she doesn't even need accessories with hair like that!


After being inspired by Vanessa and Mila's looks, I began to Google research other celebs who have dared to try this trend.  Everyone from designer Carolina Herrera to A-List actresses Kate Hudson, Gwyneth Paltrow and Sharon Stone have been seen wearing white suits and adding their own style twist to it.
I have to admit, after ALL of the white suit moments I saw, my favorite of all time still is Rihanna.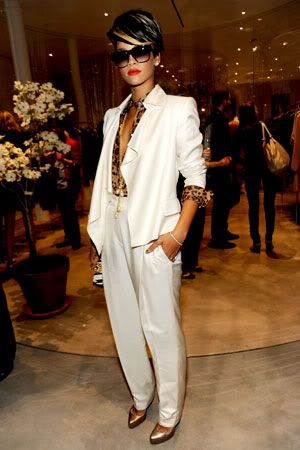 I have a major slight obsession with leopard print (when worn correctly) and this look just sent me over the edge (in a good way).  Rihanna wore this Derek Lam suit at the opening of his new boutique in SoHo. From the gold shoes, bold red lip, two-toned sunglasses, and long statement necklace–everything about this is her.  I'm not sure if I would be able to pull this one off but I just love it.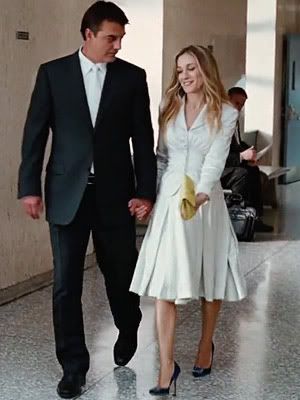 My runner's up moment for white suits had to be Carrie (aka Sarah Jessica Parker) in the Sex & the City movie.  Remember when she and Big wanted to have their moment and instead of choosing to have an overpowering dress, she wanted a 'designerless' suit?
I believe this is the key to wearing a white suit.  Make the style your own and know what truly looks best on you.  Rihanna rocked it leopard print and a bold red lip, Mila and Vanessa kept their accessories low-key but played up their gorgeous hair.
What do you think Glamazons? Would you try this look for yourselves?
xo,
Glamazon Christina
View Related Posts: